The dilemma still rings in the minds of all; buy an iPhone or an iPod Touch? With touch screen technology reining the world, here are some easy and quick references that will help you to decide which one to buy.
The iPod Touch costs $100 US less than an iPhone. So if you are tight with your budget then the iPod Touch is probably the better option. It has double the memory of the iPhone for the same price. Again, the iPhone is physically bigger and heavier than the Touch. Although it doesn't make much of a difference, the relatively smaller size of the Touch feels great once you hold it in your palm.
On the contrary with the Touch, you simply cannot snap a photo, as it does not have a built-in camera as the iPhone can. The iPhone is designed in such a way that it can be used with a monthly service fee.
The Touch however, comes contract-free. Hacking is possible in both the iPhone and iPod Touch. It is only through Wi Fi that you can surf the internet on the iPod Touch but an iPhone uses EDGE to supplement the internet availability. Therefore, if you are away from any Wi Fi hotspots you can still access the internet. Again, there are no application that has maps on the iPod Touch, aswell as the power to view stocks, weather widgets or have Bluetooth capabilities.
If the iPod Touch is in sleeping mode, the user can tap the home button twice and that by itself will bring up touch controls on the screen. The iPod Touch has separate Video and Music applications, whereas the iPhone has both built in to one like the iPod. The touch screen of the iPod appears to be of a higher quality than iPhone but it doesn't have a built-in external speaker.
Thus, in recent days, the war is on! We will be sure to see a creation of more diverse options when it comes to phones and multimedia devices on the market. Society will have greater challenges to face, including what devices to buy, as the market becomes more competitive.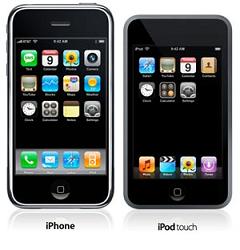 One Response to "iPhone versus iPod Touch"
Free iPod Touch Says:
June 6th, 2008 at 6:54 pm

With the new iphone coming out, I think you should wait and get the 3G.
Leave a Reply