In case you haven't heard of Google Streetview; it is an itiative setup by Google to give you the freedom to look at any house from closeup. It's similar to Google Earth except the images are a lot clearer and of better quality. The quality improvement is because the images weren't taken from a satellite, but a van similar to this: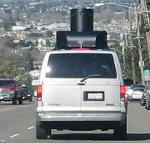 Click to Enlarge.
For a lot of people having a closeup photo of their house may be an invasion of privacy. Luckily it is very simple to get your house removed.
Step 1: Send an email to maps-legal@google.com stating you would like your house removed and provide your name and residential address. Some people say it is required to also attach a photo I.D. but it's not always required.
Step 2: Within a few days you should receive an email with a link to your address on streetview, confirming it is your house/address. Just reply to this email saying that is correct.
Step 3: Wait another few days until you receive this:
According to our records, you recently submitted a report regarding an
inappropriate image in Street View on Google Maps. We're currently
reviewing the material you reported to determine whether the image
should be removed from the product. We appreciate your assistance.
Sincerely,
The Google Maps Team
Step 4: If your request is approved, you will receive a final email and all images in streetview featuring your house will be blacked out completely.
 Hello,
Our records show that you recently flagged an image within Google
Maps Street View as inappropriate. The image has been removed from
our service.
We apologize for any inconvenience this may have caused you and
appreciate your patience while we dealt with this.
Regards,
The Google Team