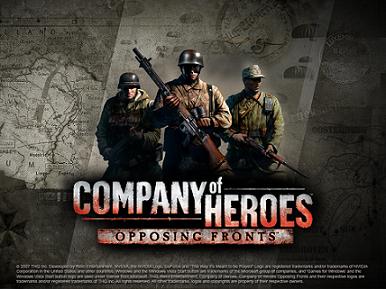 The love between game developers and world wars is no doubt a quixotic relationship and still continues to encourage game developers to create World War II inspired games, including – "COMPANY OF HEROES".(perhaps the one and only good thing wars have given us-inspiration to game developers)
But is the industry heading towards an overkill? We are in the year 2008, and have been bombarded with countless World War II based titles. Gamers are now becoming fed up of the same old theme being used and abused in every possible way! This is where Company of Heroes- opposing fronts comes in.
Opposing fronts (OF) is the standalone expansion to 2005's original Company of Heroes. This is a real time strategy game.
While CoH was based entirely on the American point of view, OF lets players decide between two factions in both single and multiplayer- The Allied British or the German Panzer Elite, each of these factions comes with its own pros and cons, and is perfectly balanced out.
REQUIREMENTS:
• Windows xp/vista
• Dual core processor 2.5 GHz
• 256 MB video card (GEforce 7x/8x/9x series should do it)
• 1 GB ram
Company of Heroes: Opposing Fronts is a brilliant gaming experience for both multiplayer and single players. The single player campaigns are detailed to perfection and have an immense entertainment value. The in-game battles are epic and truly bring in the authentic WWII feeling. The multiplayer mode is as usual kickass as usual especially with the interplayability factor. OF also has a dynamic weather system, which means you have to fight battles in the night time as well as in the daytime, and also in rainfall.
However this little gimmick has no effect on the overall gameplay. The game looks gorgeous as expected. Watching building explode and collapse while debris files all round was fun while the game ran in all its glory at our end.
The only flaw that we could find (if it can be called a flaw) is the reccuring` world war 2 theme, which we mentioned earlier. Sure, we have had World in conflict, which is a strategy game set in the present/near future, but to have Company of Heroes – with its entire superb multiplayer and single player elements- set in the present word would be great.
Leave a Reply