This is quite a basic setup but the nice looking case and monitor makes it look great. I particularly like this style of case because you can see everything inside. As you can see in the 2nd photo, the internal lights in the computer can look a lot better with a see through case like this, especially when it's dark.
Click to enlarge.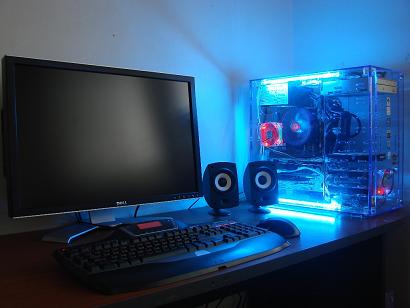 3 Responses to "Awesome PC Setup Saturday. Week 3"
Peter Sunde Says:
June 9th, 2008 at 1:55 am

How do these people sleep at night when they've got an alien mothership in their rooms when they leave the comp on overnight?

Hemi Cuda Says:
June 9th, 2008 at 5:45 am

LOL, good point, hehehe…

admin Says:
June 9th, 2008 at 11:08 pm

hahah, maybe they put a sheet over it or something.
Leave a Reply