Well I recently purchased a clear case fan with multicoloured LEDs for only $5 (including free delivery). After it arrived I realised it didn't come with any screws so I improvised with a rather unorthodox solution and used four (actually six) rubber bands. It was a simple process that involved feeding the rubber bands through the holes (the holes the screws were meant to go into) and tying the other ends to the case.
After I installed the fan, I wriggled the fan around to see if it would take some pressure and it stayed firmly in place, meaning it should last awhile before anything happens. Even with the fan and computer turned on, it has not moved at all and has assisted in cooling my motherboard for days without problems.
Click to enlarge.
Looping the rubber bands through the holes.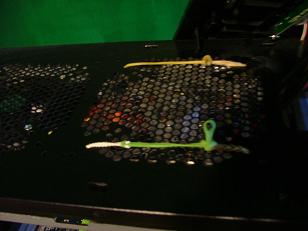 A view from the top of the case, with the fan securely attached.
My setup with the new fan attached (top right).
2 Responses to "Attaching a Case Fan With Rubber Bands"
Anon Says:
July 17th, 2008 at 5:20 pm

Ha, I've done the same thing with twisty ties

Gilbert Says:
August 7th, 2008 at 3:05 am

Why not use the same clips that are on the case?
Leave a Reply